Bare Stealth ModChip Wiring Instructions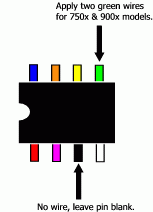 1. Bend chip legs (pins) flat with needle nose pliers.
2. Cut the tips of the legs to length with side cutting pliers.
3. Apply a small ball of solder to all pins receiving wire.
4. Strip wire and proceed to solder to the appropriate colour-coded pins.
(NOTE: 750x & 900x series PlayStations require 2 lengths of wire soldered to the green pin).
5. Seal assembled MOD chip in shrink tubing or electrical tape.